Neck Face @ New Image Art
mardi 5 août 2008, par Thibault Choay
Nouveau solo show de Neck Face, le street artist le plus satanique des US !
"Cannibal Carnival" du 16 août au 20 septembre à la galerie New Image Art de Los Angeles.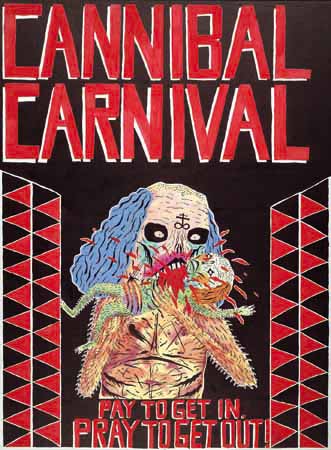 Neckface is back in L.A. to stir up some trouble. This time, his third solo show at New Image Art, "Cannibal Carnival," is all about taking things out of context to create some chaos. The watercolors featured in the show explore good things gone bad, subjects that become frightening when taken away from familiar settings. "When you see a clown at a circus its funny," says the artist, "but if you saw the same clown from the circus in an alleyway at midnight it wouldn't be funny at all." The original integrity of the medium is also twisted ; a method which the artist normally associates with wholesome and effeminate images, Neckface uses watercolors and gouache to depict morbid and jarring scenes.
Also featured in the show is a set-up familiar to Neckface but certainly not for an intimate gallery space. At the opening, friends of the artist and professional skaters Sammy Baca and Lizard King will be skating in a caged off mini-ramp filled with objects they encounter every day : knives, spray paint, and booze of course. "They are both satanic," Neckface says. "Sammy once carved Satan into Lizard King's chest with a knife."
With "Cannibal Carnival," Neckface offers the public a rare glimpse of his curious existence–parts of his life and mind that cannot be merely spray painted on the streets of New York. "I'm more of a trouble maker skateboarder who makes stuff." (From the gallery)