Todd "Reas" James @ The Bar, Miami
lundi 12 avril 2010, par Michael Dupouy, Thibault Choay
Ouvert par Aaron Bondaroff et Al Moran à Miami, The Bar donne carte blanche sur ses murs à des artistes proches des deux fondateurs.
Depuis Avril, c'est Todd James qui est à l'honneur.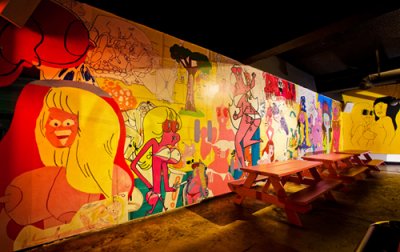 Quelques mois après l'ouverture de leur séduisante galerie, The Bar est le nouveau projet des co-fondateurs du collectif O.H.W.O.W. Comme son nom l'indique, il s'agit d'un bar souvent utilisé après les vernissages et tout recemment transformé en outil d'expression pour les artistes proches ou issu du roaster des deux galeristes.
Tous les deux mois, carte blanche est donnée à un artiste pour la décoration intérieure, en alternant entre les locaux et les out of towner. KR, quant à lui, s'est chargé du backyard avec ses extincteurs.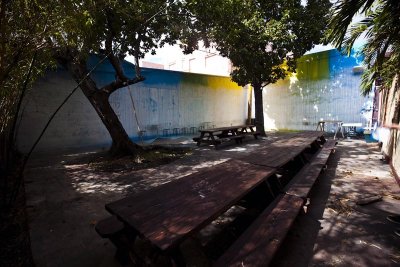 Voici donc ce que propose Todd James, depuis le début du mois d'Avril.
Du pur Reas old school, comme on aime. Tout en rondeurs !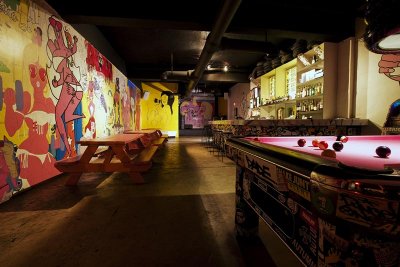 L'installation reste visible jusque fin Mai.
Les prochains artistes prévus sont : Mike Del Marmol (TypeStereo - Miami), puis Cody Hudson (Struggle Inc. - Chicago).
The Bar
28 NE 14th Street
Downtown Miami
Photos © Jason Leiva for The Bar.